Discover more from Campuccino
A fortnightly dispatch of key headlines in Cambodia with a hint of opinion
Over 1,000 subscribers
Sou Sdei and welcome to Campuccino, your fortnightly dispatch of key headlines in Cambodia with a dash of opinion.
To new subscribers, welcome! 
I'm glad that I'm writing this week's issue from the comfort of my living room considering that the previous two issues were written from two separate locations where I traveled to. Traveling for about a total of two weeks in two months has become too much for me these days. I'm sure my 21-year-old me would be in disbelief to read me saying this. Anyway, we are deep in a super hot season here in Cambodia. So, if my words seem incoherent, you know why. Some days I feel like the heat melts my brain into liquid wax. The air pollution doesn't help.
The heat also means we are approaching Khmer New Year season which used to be my favorite time of the year until I have become older, and it has got too hot to do anything outdoors. But hey, the rest of Cambodia still gears up for the celebration. Just this weekend alone there are parties across town and Cambodia's neighbor karaoke contest is louder than ever!
- Darathtey
In this issue: election, water shortage, SEA Games, and my cultural rant.
---
First things first, let's look at politics leading up to the July national election. On that front, we are dealing with the usual: overly sensitive political climate, arrested opposition party members, suspended licenses of more news outlets, and so on. I am not going to paint any specific picture for you of how it is to be living in this political situation but you can make up your own mind after reading a few news articles suggested below:
---
As I'm writing this, Phnom Penh residents are going through a water shortage crisis. This usually happens around some of the hottest months. Timely right? Across Cambodia's social media, photos and conversations among the public about their water shortage difficulties emerged. The government promised that this would be the last year the issue happens. Ironically, the same promise was made around this time last year as well. It goes without question that water is one of human's most basic needs. So, it is only natural and reasonable that people reacted strongly to this specific issue. Instead of keeping its head down and trying to better the situation, the government reacts by shifting the blame back to the public.
---
As SEA Games 2023 is approaching, Cambodia, being the host and all, must be getting cold feet because many questionable decisions have been made and unmade leading up to this grand event. The first questionable decision was an unexpected order for all schools to close from April 20 to June 18, 2023, in preparation for and during the event. This obviously sparked public outrage which seemed to drive the directive to change from closing schools for an extra month as an extension to the normal school break period to something along the lines of "open if your curriculum says so; or conduct virtual class". Don't ask me, I am as confused as you, but thankfully I don't go to school anymore or have kids. I am sending sympathy to all the parents though. This must suck!
Another questionable decision leading up to the event is ticketing. Initially, it was advertised that priced tickets were up for grabs for the events. It was rather pricey but I am all for a ticketing system for the sake of crowd control. However, days after the tickets went on sale, the PM announced that admission to all games would be free of charge for Cambodians and foreigners. Now, I am not sure if the event would still be ticketed for the purpose of crowd management, I would hope so because otherwise, it might get VERY crowded. I guess we shall wait and see. I'll be watching it from home!
---
Visually Pleasing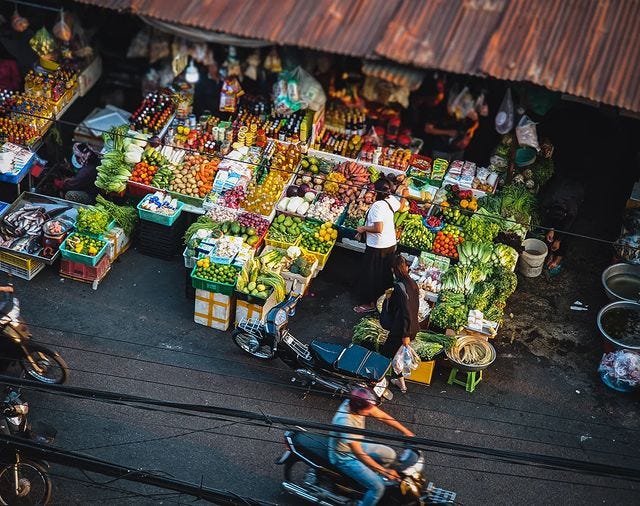 A post shared by Van DeMong (វណ្ណ ឌីម៉ង់) (
@vandemong
)
---
Arts & Culture
👚 [Long reflection] I found myself watching the entire Pleng Music Awards (PMA)this year out of sheer curiosity and the need to stay in the loop of Cambodia's pop culture trends. For context, PMA is like a Cambodian infant version of the Grammys, except through some legal reasoning, VannDa and his works weren't being considered, so the whole thing felt incomplete. I found myself disagreeing with many of the awards given because I just thought they weren't that good! I did, however, enjoy watching the variety of red carpet looks because it sure was very entertaining. I think my favorite one was a look by an influencer Cha Cha who made her entrance with a golden IV drip. While I was enjoying all the creativity and efforts brought to the red carpet by Cambodian artists, a group of my fellow Cambodians on social media decided to wage a cultural war against artist Em Riem for his red carpet look.
I am all for healthy and constructive debates of opposing opinions in society but not in a way either side ended up degrading the other through a sense of self-righteousness. Riem came under hot water for what he wore because it made many people uncomfortable when looking at his outfit. People accused him of destroying Cambodian culture. It was hard to watch Cambodia's social media tear him apart using foul language that denotes so many negative sentiments from body shaming to homophobia. Personally, I did not like the outfit in question but that was my opinion, and believe that Riem had the right to express himself. He is an artist and a designer after all. So, I had no right to question his character or creativity, at least not in a disrespectful, rude, and degrading way. I wish some people would stop using extreme nationalism as a shield for their character flaws and a way of expressing opinions. I am also grateful that there is a group of people with opposing opinions standing up in solidarity with Riem and his work.
🎉 Bonn Phum (translated to village festival) has returned this year with a three-week-long celebration to celebrate its 10 years anniversary. I mentioned this before and I will say it again, I am very impressed with what this group of young people has managed to build. I think Bonn Phum has progressed beyond a series of events and has become its own community.
---
📑 Worth Reading
Met Museum Kicked Me Out for Praying to My Ancestral Gods.
Looted Khmer ancient artifacts is a topic I talked about often in this newsletter. This week I was appalled when I read this article and I think you should read it too.

Dispelling Cambodian Cuisine Myths – It's Not 'Mild Thai'! by Grantourismo presents and busts some of the most common myths about Cambodian cuisine.
I was in Siem Reap a few weeks ago and decided I would make myself check out one of the budget Khmer restaurants that received such high praise from travelers. I ordered three simple dishes: ginger chicken stir fry, beef lok lak, and mango salad. While the two dishes of chicken and beef were mediocre at best, they were at least recognisable. The mango salad, however, was bland af. I found myself slightly in range for being served a simple salad I do not recognise and caught myself questioning: "is this the Cambodian food that these travelers are eating and liking this whole time? but my food doesn't taste like this?" In case you haven't figured out, I am very opinionated especially when it comes to my food. I think this article by Grantourismo sums up some of my sentiments very well.
---
Campuccino is a fortnightly dispatch of key headlines in Cambodia, written by @DarathteyDin.
I'd love to hear from you. If you have feedback or content ideas, please write to me at hello@darathteydin.com