Discover more from Campuccino
A fortnightly dispatch of key headlines in Cambodia with a hint of opinion
Over 1,000 subscribers
Sou Sdei and welcome to Campuccino, your fortnightly dispatch of key headlines in Cambodia with a dash of opinion.
To new subscribers, welcome! 
It has been suffocatingly hot and humid in Cambodia. For this reason, I spent the Khmer New Year holiday in my airconditioned home hiding from all the festivities outside. I had zero FOMO as I think I am getting too old for all the water fights anyway but it was nice to see that people were out and celebrating. Hiding from the heat was not the only thing I did during KNY. I also worked on finalising a manuscript for my very first book. So, that was done and sent to my publisher. Let me tell you, it felt good when I pressed that send button!
Since I took a break from sending out an issue in mid-April, this issue is going to be a recap of all things that happened throughout the month of April. Because I have a lot to talk about on the cultural front, this entire issue all about arts and culture.
- Darathtey
P.S. For those who are a bit confused by the title, it is a title of VannDa's song roughly connotating the concept of being overly self-absorbed.
In this issue: Khmer New Year, music, nationalism, and SEA Games.
---
Let's begin with a Khmer New Year recap. The super hot weather did not deter people from partying. Apart from the massive celebration of Angkor Sankranta in Siem Reap, there were parties in many other provinces and cities across Cambodia. The celebration consisted of both traditional and contemporary elements such as popular KNY games, water, and powder fight (I hate this combination!), and concerts. The concerts were generously brought to you by loads of beer brands illustrating my country's love for beer.
In Siem Reap, my lovely nation attempted and won two Guinness World Records for the largest display of origami hearts and the largest Madison dance. Yay? My thought on this whole world records affairs is: "Why? and so what?" It's like we are trying to prove something to the world by doing things that nobody actually cares about. Imagine if Cambodia attempted to win a world record for the most-forest-dense country or the cleanest country on earth. Now, that would get me excited.
On another note, I took it upon myself to listen to and watch as many KNY songs as possible and rate them. What are the criteria? you may ask. Well, my criteria is simple: good vibe, dancability, and uniqueness. So, below are my top three:
កម្លោះស្រុកខ្មែរ by Vanthan ft. Vannda — these two artists makes for a powerful duo, and that was what I saw in this song. I like that the track does not follow your usual Cambodian popular dance rhythm one often heard. It is fun, different, timely, but still has that distinctive Cambodianess to it. I'm pretty sure lots of my fellow Cambodians agree judging by the constant blasting of this song everywhere for the entirety of KNY and after.
ម្ហូបបុក by Vuthea — this one will be a bit controversial due to its subtext. While one of my friends said the subtext is vulgar, I thought it was vulgarity done cleverly. Once again, I like the vibe that this song gave and the easy dance. Not the mention, the tune was stuck in my head for days.
រាំរង្វេីល by Nico — I found this one solely by going on a KNY-research marathon of songs as I don't normally listen to this artist. I like this particular song for its easy-to-follow dance move and a clever mix of modern and tradition without overdoing it.
So, there they were, my top three KNY songs. Enjoy!
---
Since we are on the music topic, there is one song in particular I would like to highlight. Remember Cambodian Pride? I swear I still flinch every time I hear that song. Fun fact: I took the liberty to count how many times the words "Khmer" is repeated in that song — a whopping 39 times. Anyway, the song is being modified and promoted as SEA Games song. If it had been another ultra nationalistic track, then I would have nothing to rant about. But no…
Picture this: a group of women (and the artists) dressed in office attire dancing in front of an Arc de Triomphe replica. So essentially, they are singing how proud we are to be "Khmer" and how far we have come while dancing in front a symbol of our former coloniser. The replica was likely built with Chinese money. And here we are talking about "Khmer pride"? My reaction to this sightly music video scan be summed up in two words: ironically absurd. See it for yourself below:
---
This Cambodian singer spoke to Cambodianess about how artists should not chase fame and focus on national values. Article such as this illustrate a classic case of value signalling and self-righteouness of a huge portion of people in the Cambodian arts and culture ecosystem. This paradoxical and blind nationalistic point of view pisses me off. Sadly, this kind of thinking is not uncommon. Apart from criticising the artists for not adhering to the elusive national values (I mean who gets to define these values anyway?), this particular artist condemned the new generation of artists for their new work while at the same time chastising them for attempting to cover or improve old work. I mean does this dude even hear himself? Wait, it doesn't matter because he think he is older and therefore, assuming that he is always right.
---
Visually Pleasing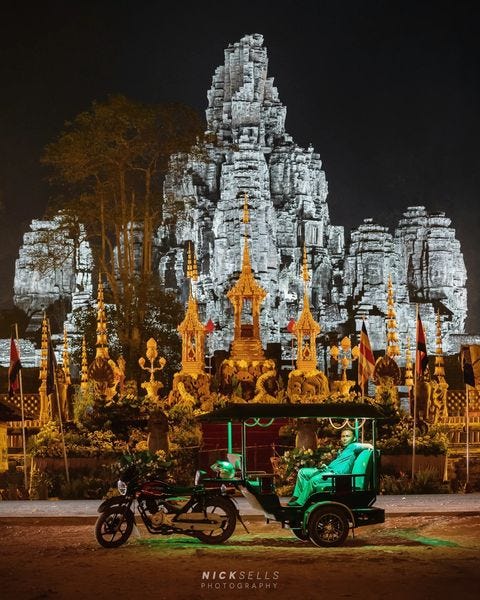 A post shared by Nick Sells Photography (
@sellsnick
)
---
Worth Reading
In the spirit of SEA Games, here is an interesting article for you: Cambodia is about to host arguably the world's biggest sporting event in the Economist.
Did you know that SEA Games is arguably the world's biggest sporting event? Yep, me neither. It appears that the sporting event allows an inclusion of obsure sports unique to some particular nations for the purpose of medal counts. It also good for politics, apparently.
---
Noteable
Kiripost just started a substack. If you want business news update from the Kingdom of Wonders, you should subscribe to their newsletter.
---
Campuccino is a fortnightly dispatch of key headlines in Cambodia, written by @DarathteyDin.
I'd love to hear from you. If you have feedback or content ideas, please write to me at hello@darathteydin.com